Howard R. Berman Collection: Books & Papers
---
Access to the Collection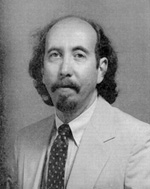 To identify books in the Berman Collection, search the University Libraries Online Catalog using an EXPERT search: "wcl=LARCH and wck=Berman"
To identify materials in the Berman Papers see the description below.
The collection is housed in the Special Collections Room on the 2nd Floor of the Law Library. Materials do not circulate.
To make an appointment to access the collection, please email asklaw@buffalo.edu or phone 716-645-2047.
---
Biography
Howard R. Berman, a 1973 graduate of the University at Buffalo School of Law, taught American Indian Law and Human Rights at UB from 1978 to 1982. Professor Berman taught at Harvard Law School from 1983 to 1987 and California Western Law School from 1987 until his death. He maintained a private practice in American Indian law and served as an attorney for the Indian Law Resource Center in Washington D.C. from 1978-81. He was an early leader in the development of law on the rights of indigenous peoples. His interests also included comparative law, international environmental law, international law, international trade and property.
He chaired the Interest Group on Indigenous Rights for the American Society of International Law and served on the Board of Advisors for the International Working Group for Indigenous Affairs for the United Nations from 1993 until his death. He worked closely with the traditional Haudenosaunee [Six Nations, Iroquois Confederacy] and was an avid collector of rare books on New York history and Indian affairs, and international law.
Upon his death in June 1997, Professor Berman donated to the Law Library his collection of books and personal papers which focus on Indian Nations within New York State and the rights of indigenous peoples worldwide.

---
Epilogue:
On September 13, 2007 the United Nations General Assembly adopted the United Nations Declaration on the Rights of Indigenous Peoples.
Prof. Berman's life work centered on the creation of this historic document establishing rights under international law for the world's indigenous peoples.
Prof. Berman attended the initial gathering in 1977 of the Conference on Discrimination Against Indigenous Peoples: The Americas, The United Nations, Geneva, Switzerland. From this conference, a recommendation was sent to the UN Sub-Commission on the Prevention of Discrimination and Protection of Minorities, which in turn recommended to the UN that it form the Working Group on Indigenous Populations. In the 1980's and '90's Prof. Berman participated in the UN Working Group which in 1993 issued a Draft Declaration on the Rights of Indigenous Peoples. In 2000 the UN Permanent Forum on Indigenous Issues was established by the UN Economic and Social Council (ECOSOC). It was this body that negotiated the final Declaration adopted by the General Assembly.
Prof. Berman served on the Board of Advisors for the IWGIA which remains actively involved in these issues.
---
The Howard R. Berman Papers
The personal papers of Howard R. Berman provide a summary view of his life's work. The papers include research materials on human rights in general, the sources and development of aboriginal rights of Indian nations within North America and their modern applications with regard to the Haudenosaunee (Six Nations, Iroquois Confederacy), indigenous peoples from around the world, and the international forums that address rights of minorities and indigenous populations, i.e., the International Labor Organization (ILO) and the United Nations (UN).
The papers include over 1300 indexed items in 59 archival boxes (30 linear feet). Several oversized items, mostly maps, are stored separately. Items include original writings (essays, reports, correspondence, and course materials) by Mr. Berman; unpublished conference papers and research proposals; photocopies of journal articles, bibliographies, correspondence, book excerpts, and Congressional materials, maps, and official working documents from the ILO, the UN and other international organizations.
For more information about the papers, consult the finding aid
---
Read the remarks by Onondaga Chief
Oren Lyons
, Professor in American Studies at the University at Buffalo, and the late
John Mohawk
, Co-Director of the Center for the Americas at the University at Buffalo, given at a
Law Library reception
on April 4th, 2001.
28 CAL. W. INT'L. L.J.Spring 1998, reprinted with permission from the California Western Law Journal, including a bibliography of Professor Berman's work.
---
Articles about the Berman Collection
Access! A Newsletter from the University at Buffalo Libraries, Autumn, 1999.
UB Reporter, January 27, 2000, Vol. 31, no. 17, p. 5
"Library Coup", UB Today, Spring/Summer 2000, p. 5.
See also:
Chief Deskaheh's Appeal to the League of Nations in 1923
---
Tributes to Howard R. Berman made at a reception for donors in the Law Library, April 4, 2001 Introduction by Karen Spencer, Archives & Special Collections Librarian: Finally, I would like to mention a very special donor, the reason many of you are here tonight, Howard R. Berman. Howard taught American Indian Law and Human Rights Law here in the late 70's and early 80's. He then went on to teach at Harvard and California Western Law School. He devoted his life working tirelessly to develop the rights of indigenous people around the world.
He passed away four years ago this June but his legacy remains. In his will he left the Law Library his entire collection of books and personal papers, including some very rare and precious items. Thanks to Ellen McGrath, our Head of Cataloging, and her staff, we have now catalogued about 85% of the collection.
I first met Howard when I sat in on his American Indian Law class in 1978. Later in 1982 I worked with him closely researching the aboriginal rights of Indians New York State. I lost touch when he went to Harvard. I would hear bits and pieces of what he was doing but never really heard from him until I had the unfortunate but pleasurable experience of speaking to him the April before he died. We were in full discussion then about taking his papers and books and I personally assured him we would take good care of them. I was very pleased to spend a sabbatical last fall organizing all of his personal papers. I created a computerized database which we hope to put up on the web. But they are accessible, at least, here in the Library. It was truly a gratifying experience for me to see the big picture and the progress of his lifework.
Howard's father, Eugene Berman, is here with us tonight along with Howard's sister, Debbie and his niece and nephew, Allison and Aaron. I thank you for joining us this evening in celebrating Howard's gift to the Library and to the world. He truly was a remarkable soul.
As a way of introducing tonight's speakers, Oren Lyons and John Mohawk, who both worked closely with Howard, I would like to read two paragraphs from a memorial given by one of Howard's colleagues at California Western School of Law, John Noyes. It very succinctly describes his work and will give you a flavor of what he dedicated his life to:
Howard Berman labored in the fields of comparative law and international human rights law. His particular expertise concerned group rights of indigenous peoples. This field - the field of group rights in international law-is relatively new, since the human rights system has long been thought to revolve around the relationship between the individual and the state. The problems of indigenous peoples, however, are not new. Their lands and resources are threatened with dispossession. The political and social institutions of indigenous peoples, and their spiritual traditions, are disregarded or suppressed. Howard worked to address these problems conceptually and practically.
Howard Berman had a deep understanding of the legal, historical, and cultural contexts within which indigenous peoples found themselves. His understanding was not purely intellectual. He knew first-hand about the struggle of indigenous peoples to survive, for he was in many essential ways a part of their community. Howard's teaching and scholarship were linked to issues he knew to be of vital importance to this community. He fought against the harm to indigenous peoples wrought by state instrumentalities and by individuals in positions of power. He fought against ignorance, with teaching and scholarship that was both honest and passionate.
With that, I would like to introduce Oren Lyons, who is a professor in American Studies here at the University. He is also a Chief and Faithkeeper of the Onondaga Nation, one of the traditional Haudenosaunee, which most of us know as the Six Nations or the Iroquois Confederacy.
---
OREN LYONS
Professor, American Studies at UB, Chief and Faithkeeper of the Onondaga Nation
I am going to talk about Howard as a person I knew in the field. By that, I mean, that we were in places where there were a lot of problems, anxieties, and sometimes confrontations at very high levels. I remember him vividly in 1979-80 at the siege at Akwesasne - the Mohawk siege where the State of New York had attempted to arrest one of the Mohawk chiefs. The Chiefs said you do not have authority to arrest us our land. We are the authority here. Therein, began a military confrontation that went on almost two years.
Howard was employed by the Indian Law Resource Center at the time working with Tim Coulter, an international lawyer working with indigenous peoples. I would say that in all the years I have spent working in the international fields I regard Howard as one of the premier experts on international indigenous law . There were very few: Howard Berman, Tony Simpson of Australia. We were all comrades - companeros. A relationship that went beyond friendship.
In the process of advancing indigenous peoples rights and if you take a look at what Howard has bequeathed to the University, you will see where it began. He has some very good information.
He was a champion of justice. He abhorred injustice. He was a very passionate man, although if you were to meet him on a day to day situation, he was very reserved, very quiet, with a very, very dry sense of humor. But he was really a passionate man.
The Six Nations led a group of indigenous peoples to Europe for the very first time in 1977, to Geneva, to hear the United Nations discuss the human rights of indigenous peoples. From that time, the international aspect really began. It was always international just by the nature of indigenous people, where ever they are, Australia, Africa, Polar Zones, New Zealand, Ocean State Zone in the Pacific, North , South and Central America - over 300 million indigenous peoples - all in various states of disrepair. We had a collegiality of suffering.
In 1977 we led a group of some 144 representatives from North, Central and South America to Geneva for the first time. We began the discussion of human rights. Howard became very heavily involved in that.
The issue of group rights is difficult because the very basis of Western society deals with the individual - the right to property. So when you bring the issue of group rights, it is difficult. If you listen to the term "human rights", it is an individual right as opposed to the state.
The community style gives to its people [as a whole] and the violations that occurred to these people were very difficult to bring., for example, putting up a ski lodge on a mountains sacred to the Lakota People. Placing the action under violation of "group rights" - the nation, the whole group - is a tough concept to bring.
We needed someone to refine it and make people understand how difficult but how common the concept was in actuality.
I remember Howard during the siege. We were bunkered in with guns and so forth in upstate New York 1979-1980. I don't know if you remember it. We were battling the State of New York on the issue of sovereignty. Howard was there in camp. He had been sent to come and report back to Tim Coulter [Indian Law Resource Center]. He came to camp and he stayed. Howard stayed. He became very familiar. We did need advice day to day. The siege ended peacefully after two years. When it did finally go to court, the Mohawks were right. We won.
We took that position. We held that position on principle. It was very dangerous at times. It came very close to a very serious turn of events. But with all kinds of good luck we resolved it. The point I make is that if the Mohawks did not stand for their principle, with the support of their friend Howard Berman, we would have lost.
Howard was very active at the UN. He traveled every year to the United Nations. From that 1977 time we established in 1982 a Working Group for Indigenous Populations at the United Nations in Geneva, in the Division of Human Rights. We began the long process of developing a Draft Declaration on the Rights of Indigenous Peoples. They would not allow us to use "peoples." As a matter of fact, this is still in contention. To this date we are "indigenous populations." I contend that the reason we are indigenous "populations" is that as long as we are indigenous "populations", they don't have to worry about "human rights" [which are individual].
So that is the style of the discussion that goes on. We needed the law - the brilliance of these men, Coulter, Simpson, and Berman to help us move through the statement that would stand as the final statement on indigenous peoples around the world.
Eventually, it occurred. In 1992, 1993, we presented the Draft Declaration on the Rights of Indigenous Peoples to ECOSOC [UN Economic & Security Council] for their approval. From 1994 to this year, we have advanced three of the 48 original articles. This gives you some idea of the kind of battle that is going on at that level on the rights of indigenous peoples.
Howard traveled all over. He was in the field. In Norway we met with the Saami people in 1988. Just last year I was in Sweden, someone showed me a photograph of Howard and myself in front of one of the Saami teepees in 1988. It was interesting. It reminded me of the times we were together and where we traveled. In the summer, in Norway and Sweden, the mosquitos are terrible. You don't walk around. I called Howie out and said, "I got to have your picture." He said "alright". The sun is always shining 24 hours a day. So I said, "Howie, stand right there. Just hold it." And as I was saying that I could see the mosquitos dive bombing. He was always very serious. And I kept saying, "Don't move!" I had to laugh…. Never did take that picture.
Howard was an expert. He was an intellect, a very powerful intellect. And when you put passion with that, then you get a combination that is very hard to deal with. He became always part of the indigenous battle no matter where he was. So between those guys that we needed so much and developing our own lawyers… in the meantime, [his death] was a loss - a tremendous loss to our efforts.
Howard was a young man - only fifty years old. I talked with him not very long before he died. I visited with him and we had lunch together. I admired his courage again. He carried it off - he carried off the launch and everything else very well. That was the last time I saw him. Howard never left things undone. He was always thinking ahead - his sense of humor again, too. So he had everything planned - his death was planned, where and all the preparations were planned, and on top of it all, which I thought was superb, he has his body and coffin flown back from San Diego with his frequent flyer miles!
I have been a professor here for 30 years. UB is a proper repository. His family is here. He spent time here - originally did his work here. A lot of things I did not talk about. I would say his legacy, the work that he has done is in the Draft Declaration of the Rights of Indigenous Populations. We will get that to say "peoples" in time. And we will get more than 3 articles done - we will get them all done because we have persevered from that time until now and we will continue until it is done.
Thank you all for taking the time to listen.
---
JOHN MOHAWK
Associate Professor, Co-Director of the Center of the Americas, Director of the Center for Indigenous Studies, University at Buffalo
I met Howard when he was a law student and I was a graduate student. He was my friend. There was a moment when he was my lawyer. I had a long and productive relationship with him.
I want to commend the people who have organized, promoted and help fund the library collection he assembled. It was a visionary thing to do. There is nothing else even remotely like it elsewhere in the United States.
The area of law that Howard specialized in was the kind of law that visionaries do - intellectual law. There are not large numbers of dollars lined up to pay people to defend indigenous peoples rights. In fact, most of the time the concept of "indigenous rights" was a contradiction in terms. If you were indigenous, you did not have any rights.
It has only been in the second half of the last century that the idea has been discussed, although the rights have not been terribly aggressively entrenched. But that is not hard to understand because in many areas of the world large sections of land that have not yet been exploited for resources are inhabited by indigenous peoples. The remaining viable rainforests of the world are almost exclusively inhabited by indigenous peoples. As has been happening for several centuries, their lands are sought by people who have plans for development, extraction, and ultimately the alterations that don't include the continued existence of those peoples as distinct peoples.
Howard's work was always well articulated. Howard was a careful thinker and careful user of language. He understood that indigenous rights meant advocating everything it took to the secure the continued existence of distinct peoples as distinct peoples - with their languages, cultures, and political organizations in tact. Howard was one of the earliest people in the world of American legal theory to understand what that meant - the comprehensive way he wrote about that, struggled for that, and went to court with that. He was a lawyer, an intellectual, a friend of ours, and a visionary.
Our university is one of many of hundreds. All universities like to have some kind of signatory thing about them. People like to say, "That university is special because it has something." Buffalo is an unlikely place to have this distinction but it actually does have a few things that are unique. On the other campus in the Health Sciences Library we have one of the most extensive database on medical health resources on indigenous peoples of anyplace in the world.
And now we have the Howard R. Berman collection. It is an excellent place to start as a center for research and study in law and history. Howard left me a couple of volumes which I will give to the Library just as soon as I finish them!
For an area of law which has been around for about 500 years, the reality is that it is a relatively young area of law. There is room here for more intellectual work and research.
Howard was a pioneer. He led the way. He started in Buffalo. His legacy will remain in Buffalo. It will, in fact, make the University, the Law School, and the Law Library a significant place in both that history and as a geographical place - as a place to come and browse. This collection is a wonderful place for that.
It is a wonderful collection especially for looking at early colonial materials. Howard had a propensity for doing something that other scholars didn't. He understood that European colonization meant documents here had collateral documents over there. Howard knew what was in European libraries and he knew that international law and history did not start in New York City. He knew it was trans-Atlantic and then became global.
This collection reflects early thinking about international law, international rights of indigenous people, what international treaties meant when they were made with peoples who were not European. This is important stuff.
I am really happy that it was important enough to make this happen. I am grateful for that and everyone should be proud of yourselves, the University and of Howard. This is a good day. Thank you.